Tweet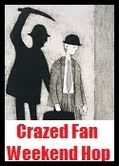 Here we are again! It's been a very interesting week for me. I finally got a real computer that works whenever I turn it on last weekend! My little guy and I got out into the
garden this week
. Oh, and there's going to be a
humongous full moon
tonight. Finally, my
first giveaway is ending on Friday
(3/25) so please stop by and enter if you have a minute. As of right now, there are only 80 entries, so you have a pretty good chance of winning some pretty cool stickers from
Sticker You
.
Here are the "rules" for this hop (copied from
The Blog Entourage
):
Just a few things to do before you link up:

1. Grab the code for this hop:



*Post this in a new blog post today, or add it to your page.

2. Follow The Blog Entourage (if you already do, please follow on Twitter, FB, etc.)
Click here to join The Blog Entourage on Facebook, where you can share links to your posts everyday!
And if you want to, please visit my other blogs, Kaitlin & Kylie's and The Green Girl.

3. Follow my lovely co-host, The Unexpected Mother.

Your link will show up on all lists, so you only need to enter it on one.

4. Pretty, pretty please tweet, share, email, and post about this hop! There's a tweet button right below the list, along with a other sharing links.


5. Instead of doing a featured blog this weekend, I'm asking that you please post this button somewhere on your blog or add it to a new post along with the blog hop button:


Thank you for stopping by! Please check out the links to my posts from this week at the top and leave me a comment if you'd like a follow! Let me know where you'd like a follow and leave a link if it's not in your profile.