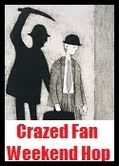 Hello! Thanks for stopping by. If you're a new follower, PLEASE leave me a comment so I can check out your blog and follow back!
If you're interested in joining this hop, here is how, taken straight from
The Blog Entourage
:
Just a few things to do before you link up:



1. Grab the code for this hop

:



*Post this in a new blog post today, or add it to your page.



2. Follow The Blog Entourage (if you already do, please follow on Twitter, FB, etc.)
Click here to join The Blog Entourage on Facebook, where you can share links to your posts everyday!


And if you want to, please visit my other blogs,

Kaitlin & Kylie's

and

The Green Girl

.





3. Follow my lovely co-host,

The Unexpected Mother

.



Your link will show up on all lists, so you only need to enter it on one.




4. Follow this week's featured host, my daughter!






Together we have started a cooking blog, Cooking with Kylie , for kids and parents who love to cook together. We will share fun snack ideas, healthy lunch ideas, and we will take all kinds of recipes and adapt them to make them easy for kids to follow!


I make sure to follow each of you back. If I haven't yet, just leave me a comment.