Tweet
So, every Thursday, I can't wait for The Frugal Girls' Chic & Crafty Party to get posted. What is it? Well, I'll tell ya! It's a great linky filled with a ton of really neat projects and recipes from all over blogdom. The links contain "chic & crafty" ideas that range from the super easy to very involved. I've learned how to
completely make over the crappy-looking, yet functional pieces of furniture
that hubby keeps dragging home on garbage night. I now have a recipe for
Strawberry-Peach Jam
that I'm planning on trying this weekend, after out next Farmer's Market trip. And, I used the
Flowers for the Black Thumb
idea to send flowers to my mother-in-law with the kids.
Oh, and did I mention that this linky doesn't just give you a place to feature your DIY craft, recipe, or idea. When you submit a link, you're entered to win something, too! As a special "Thank You" to those who link up, The Frugal Girls will choose (randomly) one person to receive a gift card of some sort.
I was the lucky winner of a $25 Hobby Lobby GC
a couple of weeks ago for linking up my revamped
Seed Bombs
post!!!
Little Guy and I made a special day of it, yesterday, with a bus ride to Hobby Lobby and a craft supply shopping spree. For the $25, we were able to get him 5 sets of watercolors (he goes through them like crazy!), his own box of 64 crayons, a ton of stickers, pop-poms, google eyes, pipe cleaners, a giant jug of glue, lots of construction paper... and more. I've never seen a kid so excited to be buying this kind of stuff - he was just in heaven! (Yeah, he's
definitely
my kid! LOL)
So, if you've got something you'd like to share, go link up.
Anything that takes an iota of creativity is welcome,
even party ideas,
tips on cleaning and crafting,
and, of course,
those project and recipe posts.
The newest edition of the
Chic & Crafty Party
will post at 8pm tonight! (Thursday) Your idea could even be featured later in the week in its own post on
The Frugal Girls
. Let me tell you, that's no little thing - being featured by them will mean a ton of exposure for your idea!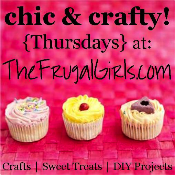 **I didn't get anything for posting this. Heck, The Frugal Girls don't even know I'm posting this! I just want to share this really cool linky with you and tell you about a great chance to win a GC to some crafty-type of store. And to thank The Frugal Girls for sending me and Little Guy on our fun shopping spree, thanks to that GC I won!