Um… well. I really have no idea what to say to this award. I absolutely LOVE being considered a "kreativ" blogger! Thank you so much to Julia for even thinking of me. Please take a few minutes to pop over to check out her blog,
A Little Bit of All of It
. She's written some wonderful posts on parenting and ALL of the things that go with it, with a nice crunchy twist on it!
Now, as always, there are rules to accepting this award. First, I must think of seven things about myself that you poor readers don't already know. I'll try to make it quick and painless this time around! I think I overdid it for the Stylish Blogger and Cherry on Top posts. And, then, I need to pass this really cool-looking Damask award on to TEN other bloggers. So, here we go!
Seven Things About Me:
I haven't shaved my legs (nor my armpits – eww!) for roughly three weeks. It wasn't a great feeling at first, but no hot water and dropping temperatures have me in and out of the shower rather quickly. Just think of the gallons of water I'm conserving! (UPDATE: The gas is back on, but I really learned a LOT about the amount of water I was using.)
I hate being asked why I don't eat more. I'm way too thin and have had people call me "skinny" all my life. In my opinion, it's just as rude as telling someone who is overweight that they're "fat" and asking why they don't eat less. It's in extremely bad taste (no pun intended!) and very offensive.
The last time we went out to eat (not counting being taken out by someone else for a birthday dinner) was when I was pregnant with Little Guy. July of 2008, to be exact. I was craving a burger and fries and we were walking downtown. The wonderful scent that was drifting from the kitchen vents of the restaurant we were passing was too much!
Confession: I use FrontLine on my cat. Twice a year (spring & fall), the fleas get so bad that the natural stuff just doesn't work. I've tried every natural essential oil, recipe, trick, etc. and nothing keeps the damned fleas off of the cat and out of the house. I have a lady on eBay "hook me up" with some once a year. I just found something that is natural, non-toxic, and WORKS! Keep an eye out for a review at the end of the month…
Speaking of fall – I HATE autumn. While a nice, warm autumn day is a wonder to behold and the colors in nature really paint a beautiful picture, it also means lots of cold and ick is in the near future. With no "meat on my bones" and no car, autumn just means that winter's freezing cold is on it's way.

I so badly want an Etsy shop. The only problem is… well, there are lots of problems. Mainly two: 1) I have nothing in particular that I can think of to specialize in - not even two or three things to narrow it down to; and 2) I'm scared to death that I'd never manage to get orders done in a timely manner or mailed out quickly if I even received any orders. Maybe someday, after Little Guy chills out some (will it ever happen???), I might re-think the whole thing and manage to come up with something.

I speak very abruptly. You see, I worked in restaurants for nearly 20 years. You don't have time to say, "Um, Bob? Do you think you could possibly add a few more pickles to this guy's burger? He really likes them and, while I know you're busy, it would only take you a second…" No, you have to say, "More pickles on the burger! Thanks!" Oh, and you have to talk loudly and clearly so Bob understands the first time. During a lunch rush, there's no time for explanations, niceties, or repeating requests. Well, after doing that for so long, it's carried over into how I speak everyday. It really pisses people off. I try over and over to change it, but it always creeps up on me at the wrong time. It's something that I'm afraid I'll be working on for a very long time!
And the Award Goes To…
The Adventures of Artsy Nina
– Nina writes some great posts. Check out one of her more recent ones entitled "
Crotch & Crochet
" – yeah, interesting titles, too, huh? She also has a really cool Etsy shop called
Camp Honeybelle
where she sells some of the more interesting vintage stuff you'll ever find. She's got a
1974 Simplicity sewing pattern
for a leisure suit that I really want – but
why
?! I don't have a sewing machine and don't think I'd ever make it even if I did. She gets the Kreativ Blogger award, though, for the really cool ideas she comes up with for some of her thrift store finds. Check out this
Pin-Up Desk Kitty for Working Girls
she created after finding some wooden cat and owl cut-outs at a thrift store.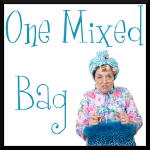 Classified: Mom
– Aimee is a mom of four who posts a ton of wonderful art projects. The majority of her projects are perfect for young elementary-aged children. But, depending on how much of the project you help your child with, they can be enjoyed by kids as young as toddlers all the way up to adults. And, yes, I have waited until Little Guy was in bed to do a few of her project ideas on my own! She has a page where you can find her project posts based on the
theme
you'd like to craft. I can't wait until Little Guy gets a little more interested in letters so we can start on her
Animal Alphabet Book
! It looks like a lot of fun and kids use a number of mediums to create a letter with a featured animal ("V is for Vulture", for example.)

Crum's This N That
– I really don't know how to describe Jen's blog. It really is "this n' that". You'll find reviews, giveaways, and little stories about her little guys, often accompanied with some photos that would give any mommy nightmares! My favorites are her "
Mommy Lessons
" in which she relates some of those things that happen during a day with little ones that only other moms would believe. One of my favorites is "
Mommy Lesson #4: Double Check
" – had I seen that guy coming at me, I know I'd have never even thought to grab the camera. I'm glad Jen did!
I don't know how I came across
Dreaming Aloud
, but I have become a big fan – to the point that missing a post in a day really send an alarm off in my head! Lucy writes beautifully and truthfully. I am constantly amazed by her ability to put some of my own feelings into such magnificently worded posts. And her openness is raw – no making things "look right", she tells it like it is. How many of us don't fudge things a little to be more acceptable to society as a whole? I encourage you to first check out Lucy's
About Me
page, then head over and read some of my favorite posts:
The White Heat of Mama Anger
and
We Are One
.
Have you checked out
The Honesty Conspiracy
yet? If not, go there NOW! Basically, it is a place for writers to submit those posts that they just cannot put on their own blogs… or anywhere else, without feeling there might be repercussions. You submit and the writing is posted anonymously. I have so many things to write, but I'm still trying to get over my initial fear and draw up all of those things that I've hidden deep inside for so long.
Now, I know I'm supposed to pass this on to ten other bloggers, but I have to stop here. I have been trying to get this post written for over a week and keep getting interrupted by one thing or another. Little Guy is just about to wake up from his nap and that will mean putting this on hold – again. If you know of a blogger who deserves the Kreativ Blogger award and I missed him or her, please let me know in a comment or my Contact Me form.