It would seem that my giveaways are going to start focusing on handmade businesses! This is great because, as you should know by now, I would love to support anyone who has the guts to venture out there and start a business that allows them to use their creativity. I want so badly to do this myself, but my circumstances just aren't all that conducive to running a business right now - time, reliability, and money seem to be the biggest problems! And, since I cannot go around and support these businesses bu becoming a customer, I think the next best thing is to tell YOU about them. With all of the gift-giving holidays coming up and with how tight money is for most people, I think that sharing these artists' products is a win-win situation. I know that most people in my life appreciate receiving gifts that are one-of-a-kind. I also know that you cannot buy the quality and creative products that are offered in these small online shops at the low prices asked in a large store.
So, here's my next giveaway:
Home Made With Love
is a great little shop owned by Jamie, a college student who is drawn to painting. You can find some of her prints
HERE
. I love the eclectic subjects of her work. I can really see that she's taking time to explore the possibilities in her art.
Now, in addition to her artistic pieces, Jamie also creates some great hair accessories. Her headbands and bows can be made with your favorite colors so you can get just the look you want. Check out these neat bows that can be made with your favorite team's colors. (I love the bouncy, pom-pom look they have!)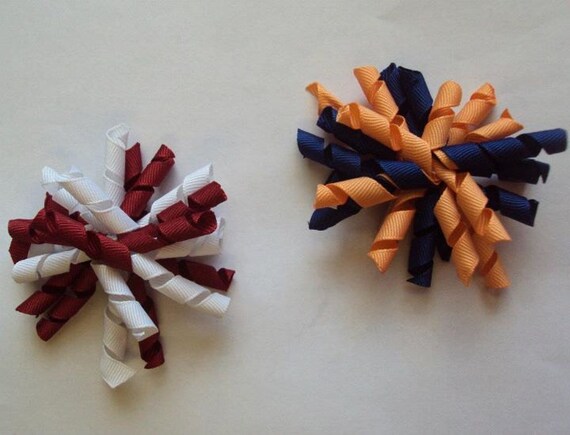 Oh, and look at this Pillowcase Dress that can be found on
Home Made With Love's Facebook page
. Why is it that, whenever I see these dresses, I want one for myself?
So, how would you like to win something great for yourself or to give as an original gift to a special someone? Just fill out the Rafflecopter form below and you'll have a chance to WIN a stacked bow in your choice of colors, similar to the one pictured below:
***If the Rafflecopter form is acting funky, please click on the title of this post. It will reload the page so only this giveaway is showing. Somehow, having a few Rafflecopter forms on the same page crosses wires or something!