As many of you know, my oldest decided to join the Cross Country team this year. Now, I had absolutely no experience with high school sports (or any organized sports, for that matter.) I really had no idea what was expected from me or from my son. Well, one of the things, it turns out, was to be part of the parent carpool when these was no bus available for transportation. Another was to pick him up from his daily practice at a park nearly 4 miles from out home. And, finally, I was expected to show up at the meets with snacks and to cheer on the team. Um… we have no car. I prepared my son for the begging for rides from kids who live near us to both the track meets on Saturdays and home from practice Monday through Friday. I missed all but two of the meets because I managed to plot a route that included a bus ride and long walk. Oh, and thanks to my son, I had no idea that I was supposed to be sending snacks each week! ("I forgot.")
Let me tell you something – my idea of a coach used to be the ones you see on TV and in movies. You know the ones, they yell at and belittle the kids in order to "motivate" them and toughen them up. They act uncaring and apathetic toward any adversity a kid might face outside of the sport. My views have been changed forever! My son's coach was a really nice guy. He could tell that my son really wanted to participate in Cross Country, so he worked out transportation. In fact, most of the time, the coach, himself, would drive 20 minutes in the opposite direction of his house in order to drive my son home from practice. Every. Day. Since he had to be at the Saturday meets extra early, he arranged rides for my son to be picked up and brought home. I only met the guy twice, and he was busy coaching at the time, so I never really got to know him. He was a quiet manly-man, from what I could tell… and that's all I knew about him!
I really wanted to thank him for all of the extra things he'd done that made it possible for my son to be on the team, but what do you give to a guy like this? I thought on this for a couple of day, then I knew: My friend, Bernie, recently opened an Etsy shop and she makes some of the most interesting and unique cards I've seen. A "Thank You" card made by Bernie would be just right. She also loves doing custom jobs… She'd know exactly what kind of Personalized Greeting Card to make for this coach!
So, I got in touch with her on Etsy through her shop,
Budugalee
, and explained all of the nice things this coach has done (there's more – I just don't want to bore you all to death!) and asked if she'd be interested in creating a Thank You for him. Oh, she replied right away with quite a few great ideas!
She asked if I had any photos of the team's jersey, running shoes, anything like that. So, I sent some and she worked out a design for me. In the meantime, I had looked up a few quotes about coaches and cross country and found the quote on the front of the card. Bernie suggested adding "Thanks for going the extra mile" inside the card – now, how perfect is THAT?!
Now, if you check out most of the cards that Bernie makes, they have pretty borders and sparkly paints on them. Mr. Bernie, who acted as the consultant with a male perspective, suggested she skip those thing – the recipient was a manly-man, athletic type, after all. I'm glad he did! The card came out just right. I sent it with my son to the last meet of the season. When my son turned in his uniform a few days later, he saw the card smack dab in the middle of the coach's bulletin board in his office for everyone to see. Now, this tells me that the guy is quite proud of it – and deservedly so! I think that Bernie came up with the perfect Thank You card for the situation!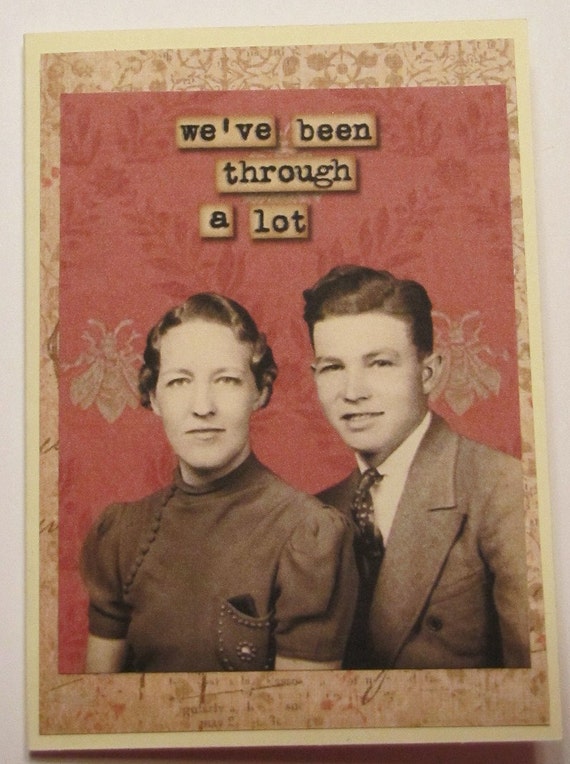 Front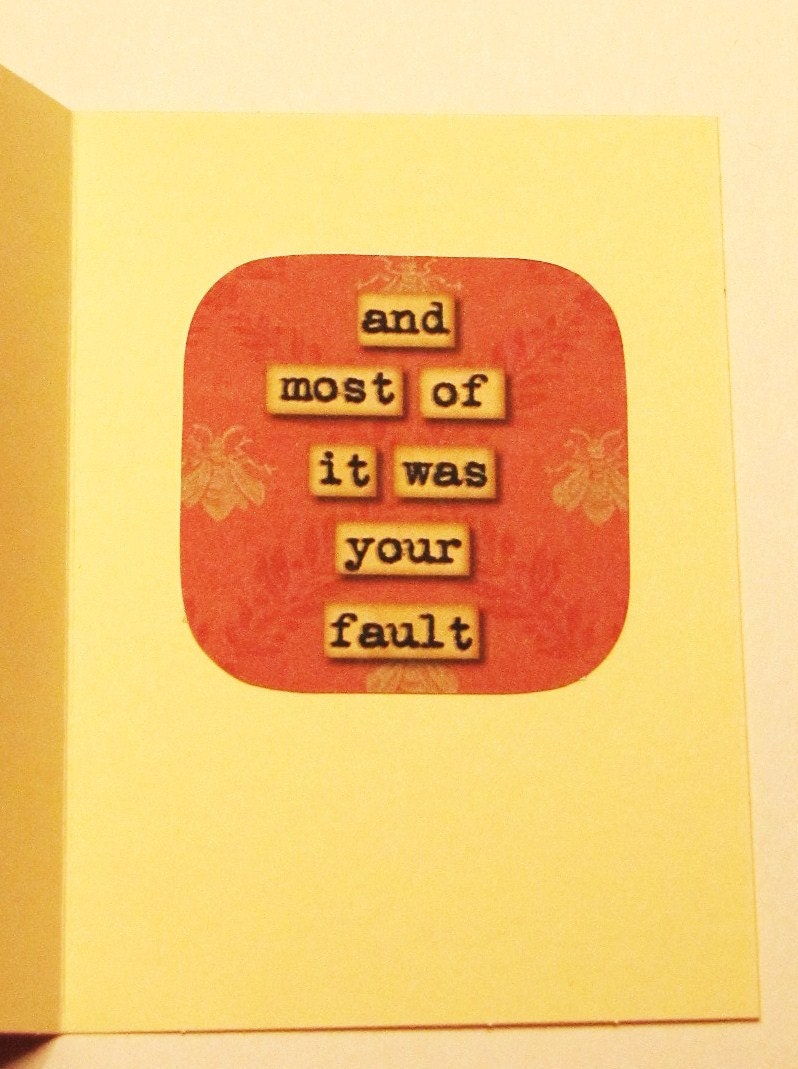 Inside
If you are looking for the perfect card for someone special, you really need to check out
Budugalee
. Bernie's card run from the weird to insightful, witty to serious. She starts with copies of old photos and then uses props, paint, cardstock… whatever she has, to add the perfect touch and set the mood of the card. Check out these...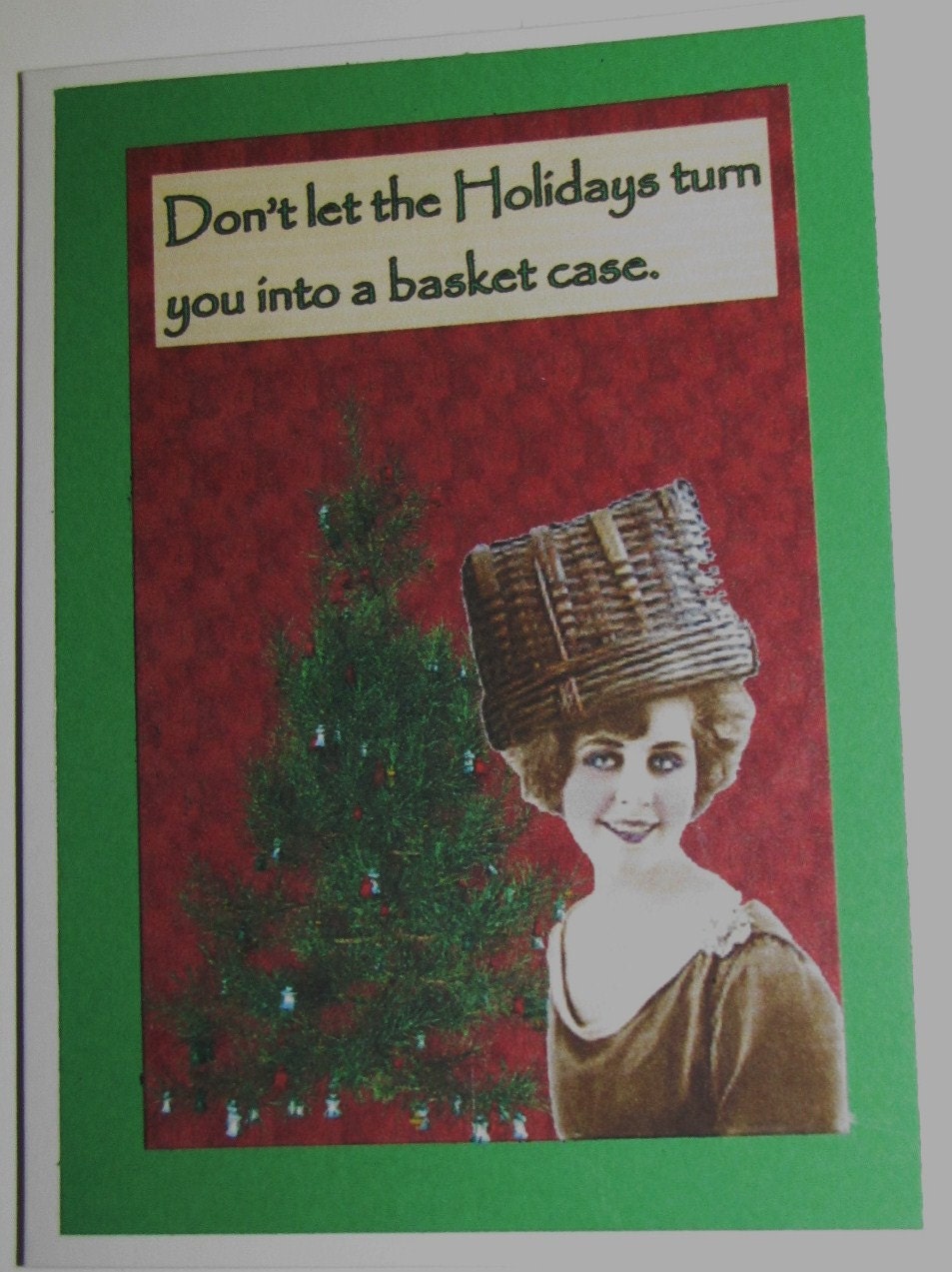 GIVEAWAY!
Do you have someone special who you'd like to give one of Bernie's personalized cards to? She's offering to create the perfect personalized card for one winner! It will be a process similar to the one I experienced for the coach's card. You can send you own photos, include any special sayings or messages, etc. Just let her know, and then stand back while the brainstorming begins!
If the Rafflecopter form is wonky, please click on the title of this post. Do not attempt to enter on my home page because Rafflecopter has a glitch and you may end up entering a different giveaway!