Scrapin' Sara's Gifts
on Etsy. Man, oh, man was I thrilled!!! I waited for the mail to come every day until those cards showed up. And, when they did, I was curious about the size of the package. I mean, it was a
BOX
for a set of holiday cards... Upon opening my mysterious box, I found not only the cards I had won, but also a sparkly Christmas ornament and a few more cards.
Hmm... did she send me the wrong thing?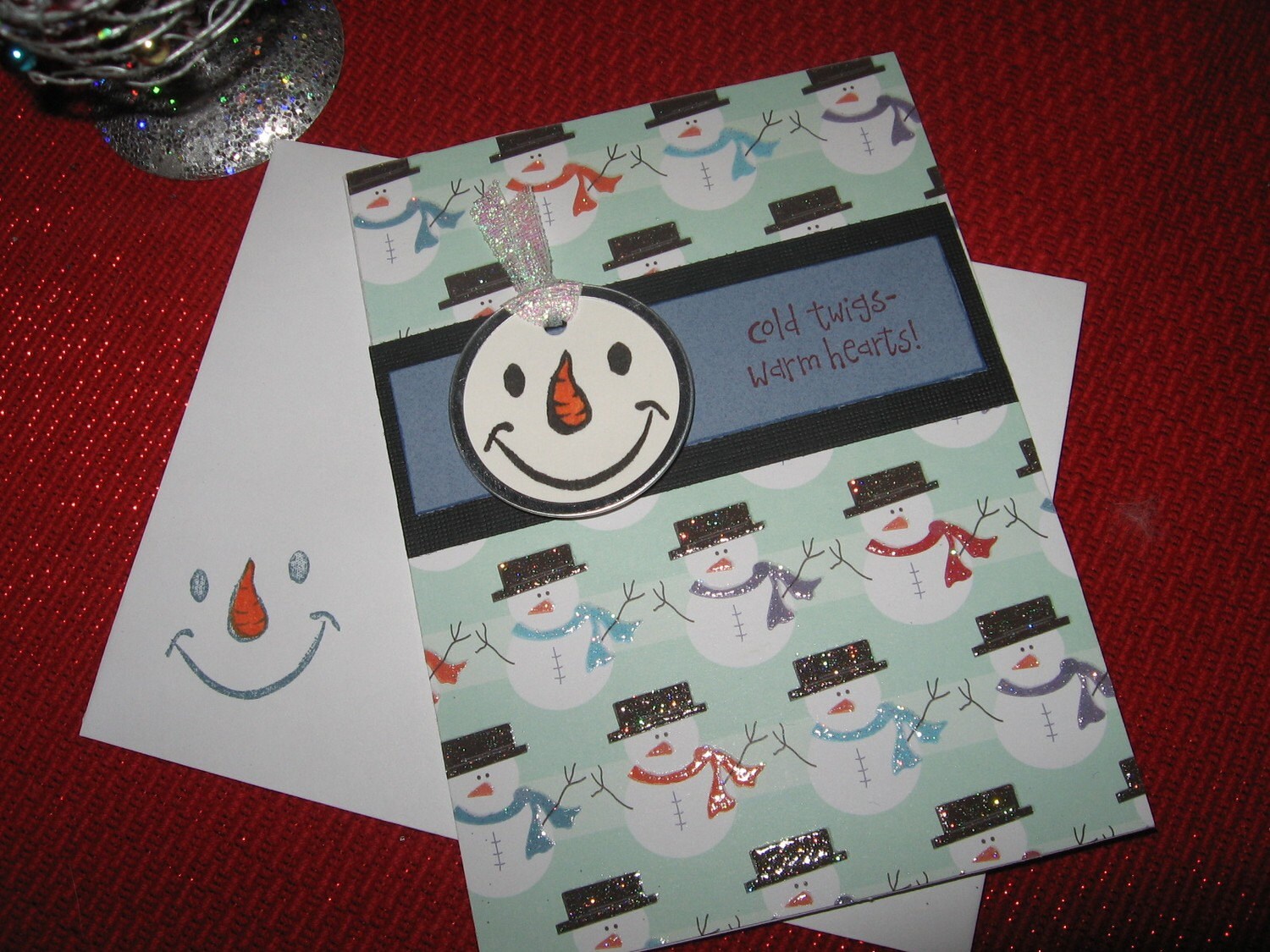 So, I headed over to
Scrapin' Sara's Gifts
to contact her to find out if there was some kind of snafu. That's when I saw it, nestles between the thumbnails of her items and her header:
All orders come with FREE GOODIES!
Wow! Free stuff with every order?
I had to try it out, so I ordered another set of holiday cards. Sure enough, that box came and there were TWICE as many cards as I had ordered in there! Not only did I end up with two sets of cards and a pretty ornament, I also ended up with nearly a dozen extra all-occasion and blank cards. (By the way - I hung that ornament in my kitchen window and forgot to pack it up in
January
February with all of the other Christmas stuff. It catches the morning sunrise in the summer beautifully!)
When my little brother became a father a few months ago, I wanted a special card to congratulate him and his girlfriend. The first place I went to was
Scrapin' Sara
. I knew that, if I couldn't find what I was looking for, she'd be able to make it for me. I didn't have to ask - I saw this card and knew it was just what I wanted.
And, if you'll remember, in March I participated in the
March of Kindness
hosted by
Code Name: Mama
. Participating really got me thinking and I decided to hold a giveaway that had two purposes: I wanted to give my readers a chance to win some great items and I wanted to thank some of the Etsy shops that I had won prizes from by sharing their shops with my readers. I contacted each of the shops and told them that I wanted to run a giveaway of one of their items - and pay for it myself (I had saved up survey payments on my PayPal account for a couple of months to do this.) It worked out wonderfully - every single one of the shops either offered the item for free or added to the giveaway prize offered.
Sara not only offered the set of cards I had picked out for free, she also added a second set of cards so there would be two winners!
(You can see the post
HERE
.) Now, how cool is that?!
And
Scrapin' Sara's Gifts
doesn't just have cards. Oh, no! Sara also makes
gift tags
,
really cool gift tag holders
,
photo frames
, and
ornaments
! Now, I know that most bloggers don't mention price, but I'm going to - I don't know how she manages to make a dime from her orders because the prices are so low and she's always packing in
free stuff
! I mean, the card I bought for my brother was just $2, and then she went and sent three more cards to me with it. And, on top of that, she's got a
clearance section
...
So, when Sara asked me if I'd like to do another giveaway with her, I jumped at the chance. She'd like to offer one of my readers the chance to
WIN a Handmade 6"X6" Winter-Themed Scrapbook!
It is all ready for you to add photos of a special wintertime family outing or get-together. The background paper has distressed snowflakes on it and is light enough that you could even write on it.
I'm imagining it as a great little book to keep a crafty kid busy during winter break from school - put them in charge of decorating the book and taking pictures of the family! Another idea: My mom lives in Florida and ships the kids their gifts. She always over-does it (she says that's how grandmas are supposed to do it.) I try to take a ton of photos and then call her immediately after the kids have opened their gifts from her. I would use this book to make a little keepsake "thank you" album for her. There are a ton of possibilities for this little scrapbook!
You can find
Scrapin' Sara's Gifts on Etsy
. Sara also write a very good blog called
Sara's Organized Chaos
. I've got her RSS feed going right to my Google homepage so I don't miss a thing!
***If the Rafflecopter form is acting funky, please click on the title of this post. It will reload the page so only this giveaway is showing. Somehow, having a few Rafflecopter forms on the same page crosses wires or something!