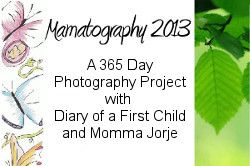 I love taking photos, want to learn more about using my digital camera, and keep a journal in pictures for the year. That's why I've decided to join Luschka of
Diary of a First Child
in her Mamatography 2012 Challenge. I will take a photo each day that kind of reflects what our day was like, whether it's the pile of dirty dishes that I repeatedly walked past (feeling guilty) or a project that the kids and I worked on.
This is a creative challenge, so you can go anywhere with it! Maybe you want to take a photo of your kids next to the same wall every single day to show how they've grown, or perhaps you want to take some risks and attempt to take an artsy photo each day? Whatever floats your boat goes here. And, if you miss a week or two - no problem. Just pick up when you can. You can post just photos, captions, or even little explanatory paragraphs of each picture. (I think this will help me with my major UN-Wordless Wednesday problem!)
I've just learned of this challenge today, so I may not have all of the facts straight yet. But, from what I can understand, there will be a linky posted on Diary of a First Child on Wednesdays to link up. If you're interested in taking part, you can visit
THIS POST
to learn more and sign up.
Let me know if you plan to join and I'll try to make it to check out your progress every week!