Well, I can't believe I've made it to the second week! I seem to always have good intentions when I start this type of thing. Unfortunately, when I miss a day or two, I seem to give up. I know there are other "take a picture a day for a year" memes out there, but I chose this one for a couple of reasons: 1) I love reading
Diary of a First Child
. 2) The guidelines of Mamatography are very laid back, making it feel less of an obligation and more of a fun experiment. The one thing that really hooked me was this from the
Mamatography info post
:
"If things happen and you can't participate for a while, that's fine – just start up again when you can."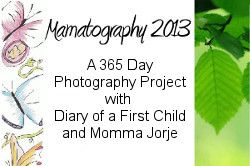 Yay For Clean Dishes!
Day 8 (1/8/12)
Yeah, I was lazy. The only thing I did that was productive all day. Well, I made dinner, too, but it shouldn't count. I just opened a jar of spaghetti sauce, then added a few herbs and the leftover meatloaf from the night before. Oh, and cooked some pasta.
I Wear My Sunglasses at Night
I saw the moon and just had to take a picture! I love how the clouds give a smoky, mysterious feel to the photo. And the corona is so bright! It was easier to see the line between the moon and the corona circling it with the naked eye than through the lens on my camera. One of these days I'll learn how to take photos that look the same as how I see them.
Mustache Man!
When my oldest was little, he called these beans. Well, actually, he still does (and so do I!) Little Guy, who seems to have a different way of looking at everything, has decided that they are not beans. They are most definitely mustaches, instead. Just after this picture was taken, my oldest came up and asked Little Guy what he was doing with the "bean". He got an earful and I don't think he'll be calling them anything but "mustaches" around Little Guy again!!
Zzzz...
Day 11 (1/11/12)
This hasn't happened... ever! He said, "Mama, please be quiet. I need a rest. I'm in a grumpy mood." Once I got over my shock, I began to wonder if he might be getting sick. Nope. Wouldn't it be cool if he was just learning to recognize his need for sleep AND deciding to follow it?!
"Snot's On!"
I've taken it upon myself to develop a recipe for a cotton play dough. I want something that is pliable like dough, but fuzzy like cotton balls. This was my first (failed) attempt. I wound up with a pot full of snotty cotton. ICK!
I added a bunch of flour until it was dough-ish, and let the kids have their fun with it.
Day 13 (1/13/12)
Yeah. Completely forgot to take the camera out all day.
Uh-Oh!
Day 14 (1/14/12)
We finally got some snow! This was Little Guy's first snowball fight. As you can see, the mittens are way too big for for him (the site I got them from said they fit ages 2-5. Those things are just a little too small for me to wear!) Anyway, my oldest showed him how to take his hands and push the snow together to pack it into a snowball-like formation. Pretty cool big brother, huh?
So, what did your week look like? If you'd like to join me on this endeavor, just click on the Mamatography button at the top of this post to learn more. I'll be linking this post
at Diary of a First Child's Week 2 Mamatography Linky when it's posted on Wednesday (1/18)
, so if you'd like to see more photos you should head over!