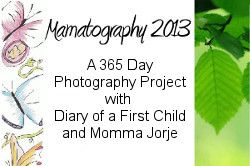 It was so hard to choose photos for this week's
Mamatography
post. It seemed like I had the camera out all of the time. And we did so much! I had the kids help me choose which picture to include and this is what we decided on:
"I push this button!"
Little Guy was just thrilled when "Brubber" invited him to play computer games on his laptop with him. Usually, we try to keep him away from our computers because he gets over-excited AND had that "I know what I'm doing and I'm going to do it myself" attitude going. The two of those, together, usually equal a computer that is completely frozen up within minutes and hours of trying to figure out how to fix it. But, my oldest patiently kept little guy in check and found a game that would allow him to use the mouse pad easily. He had the BEST time!
Day 16 (1/16/12)
Warm Winter's Catnap
Number 1 has been in heaven lately. He comes into the house after spending a few hours in the freezing cold, gets a bite to eat, then lays down somewhere for a nap - purring the entire time. I can't help but wonder if he ran into a stray who told him he should be grateful for a warm home and food in his belly. He's been showing his appreciation in many ways, too. He knows how much I like a kitty sitting on my lap, but he never really cared for it himself. Not recently! He's been bringing up "presents" to the door (and sometimes tries to sneak them into the house) in the form of field mice. My oldest usually is the recipient of these gifts, since he's often the first one to leave the house in the morning! And, he has even been hanging out with Little Guy, who has just recently made the differentiation between stuffed animal and real animal.
Goofball
If you're my friend on Facebook, you already know about this picture. My oldest borrowed my camera for a school project he had to do (how cool is it that he can email his homework to his teachers?!) And, while he had the camera, he had to screw around a little, right? I found about 20 goofy pictures of him and his friend on my camera after he returned it to me. I jokingly told him that he should always delete photos after uploading, or they could make their way into the wrong hands. Then I mentioned putting one of the pictures on Facebook and tagging him in it. The kid actually DARED me to do it. Well, being the mom that I am, that's exactly what I did. I started feeling bad a few minutes later, so I removed the tag (the picture is still there.) I just don't know if one of his classmates might get a hold of his goofy picture and turn it into some kind of nasty joke. So, it's on my wall and he can tag himself in it if he wants. And I'll be having prints made of these photos because they are just too fun to forget about!
You Could Have Put Your Eye Out!
You know how you're always warning kids to be careful with scissors? Yeah... While Little Guy and I were making our
Craft Idea Book
, I put the scissors down for a split second. That was long enough for him to come charging across the room at full-speed to grab them. Only I was faster and snatched them up. And, as you can see by the picture, I didn't do so safely. I stabbed myself in the hand - and it was a bloody one. Little Guy's eyes were like saucers when he saw what had happened. I think that he truly did not believe me all of those times I told him that scissors are dangerous. He probably thought I was just saying it to keep him from having all of the cutting-up-paper-fun. Ever since this occurrence, though, he hasn't tried to get my scissors. And I'm on the look-out for a good pair of child safety scissors for him. It
is
fun to cut paper and why should I be the only one to enjoy it?
Day 19 (1/19/12)
My Very Cold Friend
It was so cold! The wind was blowing like mad and the temperature, without taking windchill into account, was 9F. We have a pair of Blue Jays that have decided to winter in the woods behind our house and I couldn't help but see this bright blue guy all puffed up and trying to stay warm when I passed the window. I tossed a handful of seeds out for him and he quickly swooped down from his perch to fill his stomach.
The Sick Blanket
Another chilly day. Rather than heading outside, Little Guy and I had an all-day indoor camping trip. This picture was taken early on in our day. We ended up making a campfire out of paper towel tubes and tissue paper. We made beds and Little Guy took a nap in his tent. We had snacks. We even went fishing, using sticks, yarn and paper clips for hooks. We didn't catch anything and concluded that fish do not like gummy worms, so we ate the worms for "dinner", instead!
See that striped, crocheted blanket? My great-grandmother made that before I was born (I think it may even be older than my mom.) It is known as "The Sick Blanket" because that is the blanket that we used whenever we were ill and laid on the couch in the living room all day, while our mom or dad nursed us back to health. It is used for the same purpose for my kids and, hopefully, one of them will become as attached as I have to it and their kids will get to know The Sick Blanket, as well. And when we were well, that blanket made the BEST tents... Still does!
Wintertime
This is the picture of winter in my mind. Sled and squirrel tracks in the snow. Kids' footprints, big and small. The sunshine creating those cool blue shadows that you can only see in the wintertime across the snow...
So, what did your week look like? If you'd like to join me in this endeavor, just click on the Mamatography button at the top of this post to learn more. I'll be linking this post
at Diary of a First Child's Week 3 Mamatography Linky when it's posted on Wednesday (1/25)
, so if you'd like to see more photos you should head over!