I really was surprised that Sasha from
One Rich Mother
thought of me when she was choosing who to pass the Versatile Blogger Award to. Really, I was having a hard time trying to figure out just what type of blog I am writing here. Whenever I enter my blog into PR sites or blogger sites, I have to really think about what to put down in the little box that asks to describe your blog in 200 characters or less. "
You've got to be kidding me!
" is my first thought. So, I end up just writing a string of tags that I
think
might give the reader a good description... maybe.
Woo Hoo!!!
You should really check out
One Rich Mother
. She is a relatively new blogger, like me, and has a lot to say about just about everything. I love her natural parenting posts and she always has something that is meaningful to me in every one of her posts. I look forward to reading her blog everyday!
Now, I must share seven things about me. Gee - this is going to be tough. I already did this a couple of weeks ago with the Cherry On Top and Stylish Blogger awards I received! Let's see...
I do not have a car. In fact, we haven't has a car for three years now. My husband was in an accident (he was fine) that totaled our minivan. We could have replaced it with the timely tax return we just received but we decided, instead, that we could manage without one for a few months - at least until Little Guy was due in November. Well, Little Guy was born and we still didn't have a car and everyone lived! So, rather than worrying about emissions and gas prices, we walk nearly everywhere. There is bus service in our town, but it sucks. We also get a ride to the grocery store once a month from a friend. That's when we stock up, so if anything gets missed, we just do without!
We are four people living in a tiny, one-bedroom apartment (my hubby calls it a "compartment".) I quit my crappy job soon after our van bit the dust and decided to focus on my schooling. The rent is very low here and we figured we could deal with the tiny place long enough for me to get a degree.
I'm in my fourth year on my Bachelor's of Science. I am working on a Sociology degree with a minor in Education. When I graduate, I will continue schooling for a Masters in Education and, hopefully, go on to become a Nationally Certified Teacher, allowing me to work anywhere in the US without having to take each state's certification test.
I do NOT want to be a regular teacher in a regular classroom in a regular public school!!! I love John Holt's view on compulsory education and would like to figure out how to unschool IN school. There HAS GOT to be a way. I'm thinking that the first step would be to have a one-room schoolhouse situation where children of all ages are in the classroom. Maybe I could open my own school for homeschoolers to meet once or twice a week to work on group projects or something... We'll see!
I hate doctors. I have yet to meet one who is not offended or afraid of having a patient whose knowledge in a particular area exceeds his/her own. I am well-versed in the pros and cons of vaccinations and am able to ask well-thought out questions. The last doctor I had for myself literally kicked me out after he asked me if I wanted the flu shot. I politely declined, so he went into his "you're risking the lives of your children" speech. Then, I asked him tow questions: Does the shot have a live virus, and Does the shot come from a large vial or is it individual (the amounts of mercury vary greatly in these.) He didn't know and got really pissed at me. Told me to leave and find a new doctor, then stormed out of the exam room! O...M...G...!
Another reason I hate doctors: My first husband died of cancer. It was Squamous Cell Cancer of the Skin. I did a LOT of research on this while he was ill. Turns out, the best cure (yes, I said CURE) for this is to literally cut the cancerous part of the skin off. Cancer is gone! He was a medicaid case at a large, posh hospital in Los Angeles. The doctor who was assigned to him was more than unhappy to be working on a patient who would not bring him glory. Now, I easily found a ton of research papers and studies that explained exactly how this type of operation should go - you cut the cancer out, then take a little piece of skin from the surrounding area that is left and check under a microscope to make sure that there are no cancer cells left. I asked about this and it turned out he skipped that part. (Guess his ego told him he could "eyeball" it.) My husband was FINE for six months after the surgery. Felt amazing, no problems whatsoever. Then he got sick again. He was told he still had some staples in his head (where the cancer was) and they needed to be removed. This went on for two years. We finally moved to Michigan and he was seen at U of M. He had the cancer back and it spread into his skull and was making its way to his brain stem - he had two months. See why I can't stand doctors???
OK, last one (I'll make it short! LOL
Now I am going to pass this award on to some of the blogs I like. I have recently been introduces to some pretty amazing blogs recently, thanks to The Peaceful Housewife's hosting the Natural Parenting Blog Party. I'd like to pass this award on to some of these new blogs and on to a couple of my old favorites:
This is one of my favorite blogs. Right now,
Surviving a Teacher's Salary
is having "Bug Month" - a month filled with bug-related posts. Everything from great products, contests, interesting facts, and even a daily update on the Painted Lady butterflies she's raising. Every week she has a post with "Educational Giveaways Around the Blogosphere" where you can find good, quality giveaways to help your little ones learn.
Sorry, no button so here's his profile pic!
OK, so I just "discovered" Jeff's blog,
Just a Bald Man...
, on the Natural Parenting Blog Party. I LOVE his parenting philosophy. The first post of his that had me hooked was "
The Myth of the Lazy Unschooler
." THEN, I read "
I'm Still That Dad
" and I knew I'd be anxiously awaiting his next post, and the next... Go check his blog out right now!
Zoie, from
TouchstoneZ
, has really been an inspiration to me. She writes about all things related to natural parenting. From breastfeeding to attachment parenting, all I need to do is head on over to her blog to get some information. If she hasn't written a post about it, I know that she'll have a link to someone who has. In addition to having a great blog, Zoie makes it her mission to get out there and read, comment on, and share others' blogs. How cool is that?! I know for certain, for instance, that she managed to go to every single blog post from the March of Kindness meme at Code Name: Mama and comment on them. There had to be over 200 posts! PLUS, she managed to
compile a list, in order, of each post for this meme
!
When I am sick of the same old projects with the kids, or I just can't come up with anything, I only have to click over to
Modern Parents Messy Kids
and I have more ideas than I thought possible. The projects featured on this blog run from super-simple to more complicated. This is great because, with 10-1/2 years between my guys, it can be tough finding things for both of them! Right now, there's a great post entitled
"Anatomy of a 'Creative Play Easter Basket'"
that is just wonderful. It describes all of the ingredients for a non-edible Easter basket filled with inexpensive (and sometimes free) items that will help your kids get creative!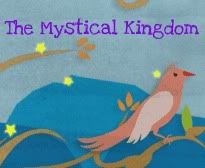 This is another blog that I am just beginning to become acquainted. I am an unschooler at heart, but I really like reading about different homeschooling methods.
The Mystical Kingdom
has many posts based on Waldorf Homeschooling. I am learning a lot and believe that there are tons of ideas that I can incorporate into our everyday activities. In addition to homeschooling posts, you'll find natural recipes, great craft ideas that use very little supplies, and just some feel-good posts about family.
There are more blogs I'd like to feature, but I'm just running out of time! I'm trying to work on a post that has a little bit about each blog I like and why. I'm thinking of turning it into a page that I add to as time goes on. We'll see... I have so many ideas and not nearly enough time!