Well, the first week of the new year is over. It
started out kind of crazy
, but it's ending pretty well.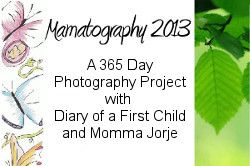 I am so excited to be taking part in
Mamatography
, hosted by Luschka of
Diary of a First Child
) as a year-long project. I've been taking pictures like crazy all week, trying to decide which single photo represents each day the best for me. Looking back over all of them tonight was fun. I know that I'll love having them all compiled on December 31, 2012. I think I'm going to have them all put into a photo book. Why am I thinking so far ahead?! Heck, by this time next year, someone will probably have come up with something even better than a photo book for saving memories!
Royal Icing Candies
DAY 1 (1/1/12)
After a month-long baking frenzy, I had a container of royal icing left that I had no cookies to go with. So, I plopped it into a decorating bag, added a few stripes of food coloring down the insides of the bag, and piped these. I let them dry on the parchment overnight, then saved them in a glass jar with my decorating supplies. I figure they'll come in handy for sprucing up cakes, cookies, and cupcakes on days when I either don't feel like making a ton of different icing colors or when I just don't have the time.
My Mess
DAY 2 (1/2/12)
My huge mess. In the aftermath of the holidays, this is what I have left to deal with. I walked past this pile a million times today. Every pass I made, I thought, "Man, I really need to organize this crap!" It has everything: stuff to donate, clothes that need to be folded and put away, junk mail and partially-completed art projects. The dresser is topped with nothing but things that I've collected for crafting: cardboard boxes, oatmeal containers, newsprint... On, and that's a real pumpkin from Halloween. I've been meaning to roast, puree, and freeze it. I have a sneaking suspicion that, by the time I get around to it, the thing will have turned into a giant rattle!
Rastlin'


DAY 3 (1/3/12)
Today was my oldest's first day back to school after Christmas break. I took this picture about five minutes after he got home. These guys missed each other so much after hanging out with each other everyday for two weeks straight. They roughhoused for a good 45 minutes before they got sick of each other again. Just long enough for me to do the dishes and start dinner!
Painting Frenzy
This is the day that I completed the
Melted Crayon Art
project. You can see my painted cloud paper drying on the right. Little Guy absolutely adores his easel and paints on it everyday. Oh, and I highly recommend those Melissa and Doug paints he's using. They're nice and dark and last much longer than the usual watercolors you can pick up for a dollar.
WHa....?
(((CLICK!!!)))
"Say 'Cheese', Mama!"
I really need to get that kid his own camera. I've been drooling over those VTech Kidzoom digital cameras for him. Completely unnecessary and way out of our budget, though. Maybe someday...
January 6, 2012
Monroe, MI
High: 54 F
Low: 39 F
Little Guy found this dandelion while we were out for a walk. In January. In Southeast Michigan.
Shhh! I'm Hiding!
He was convinced that I couldn't see him because the cat's tail was hiding him. I remember thinking my mom couldn't see me if I couldn't see her. I also remember the exact moment that I realized this wasn't how it worked! I had just turned four. I wonder when Little Guy will figure it out?
So, what did your week look like? If you'd like to join me on this endeavor, just click on the Mamatography button at the top of this post to learn more. I'll be linking this post
at Diary of a First Child's Week 1 Mamatography Linky when it's posted on Wednesday (1/11)
, so if you'd like to see more photos you should head over!