Remember a few months ago when I was
looking for a wedding band
that I really wanted to wear? I was shopping around because I needed to replace the one I had. It was most definitely NOT my style. It was also not easy to wear without causing pain to others. I found a new wedding band and couldn't be happier with the choice.
Well, not it's hubby's turn. And not for any reason other than he went and lost his. You see, the size of his fingers tend to rise and ebb based on 100 different reasons. The day he lost his ring, it was too loose on his finger. He took it off and put it into his pocket. The same pocket where he keeps his money wadded up, his handkerchief, his keys, etc. At some point, the ring was pulled out along with something else and lost forever. I have to tell you that we spent less than $20 on it and you could tell. It was pretty beat up, with little dents and scratches in it. At this point, I can only hope that someone finds it and gets some good use from it.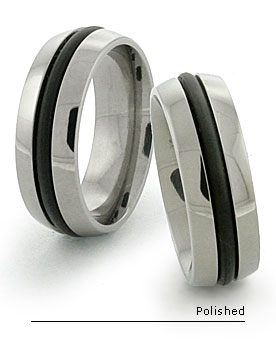 So, we're in the market for an inexpensive men's wedding band. I had my husband look around online for a while so he could get an idea of the style he would like. Once he emailed me a list of links, I went to work on narrowing it down. No, I'm not going to get him the one with the Harley Davidson logo.
What was he thinking?!
I did notice that he had quite a few
black titanium rings
on his list. And, I have to admit, they look pretty cool.
They cost a little more than the twenty bucks we spent on his original ring, but I think that it is worth it. And, when compared to some men's wedding bands on the market, they cost next to nothing! Titanium is very strong and will be able to withstand the punishment that my hubby will throw at it. It's also lightweight. This may not seem like much (how much can a ring weigh, anyway?!), but with his physical disabilities, it means a world of difference!
I have settled on buying hubby's ring from
Titanium Style
. Their prices are right, they offer a ton of styles, and offer both a lifetime warranty & a 14-day money back guarantee. Additionally, they offer a ton of free services that many companies tend to charge you for: Lifetime refinishing service, shipping on orders over $99, and even a ring-sizing set. We can even choose to have them create a custom ring for my husband with engraving inside the ring (I'm thinking, "If found, please call..." LOL) Now I just have to save up a little bit more money and I can probably order and have the ring here in time for our anniversary on Leap Day. I have read the reviews from their customers, and one thing they all mention is the fast turnaround time from the time they order to the time they have a ring in their hand.
If I can save a little extra, I'm considering getting him a
titanium bracelet
, too. Kind of as a surprise to him. I just know he's love the titanium bracelet with engravable I.D. plate. And, this time, I would have it engraved with our phone number. If you've read much of my blog, you know that he tends to get "lost" from time to time and I'd feel much better knowing that he's got some form of I.D. on him. Or, maybe I'll just get him these
dog tags
.
Have you ever bought or owned titanium jewelry?
What did you think?
**Disclosure: I will receive compensation for this post. However, I have written truthfully and all opinions are my own.